Contact Case Manager
Tracey Rentner
Two Embarcadero Center Suite 1500
San Francisco, CA 94111
T: 415-774-2639
F: 415-982-5287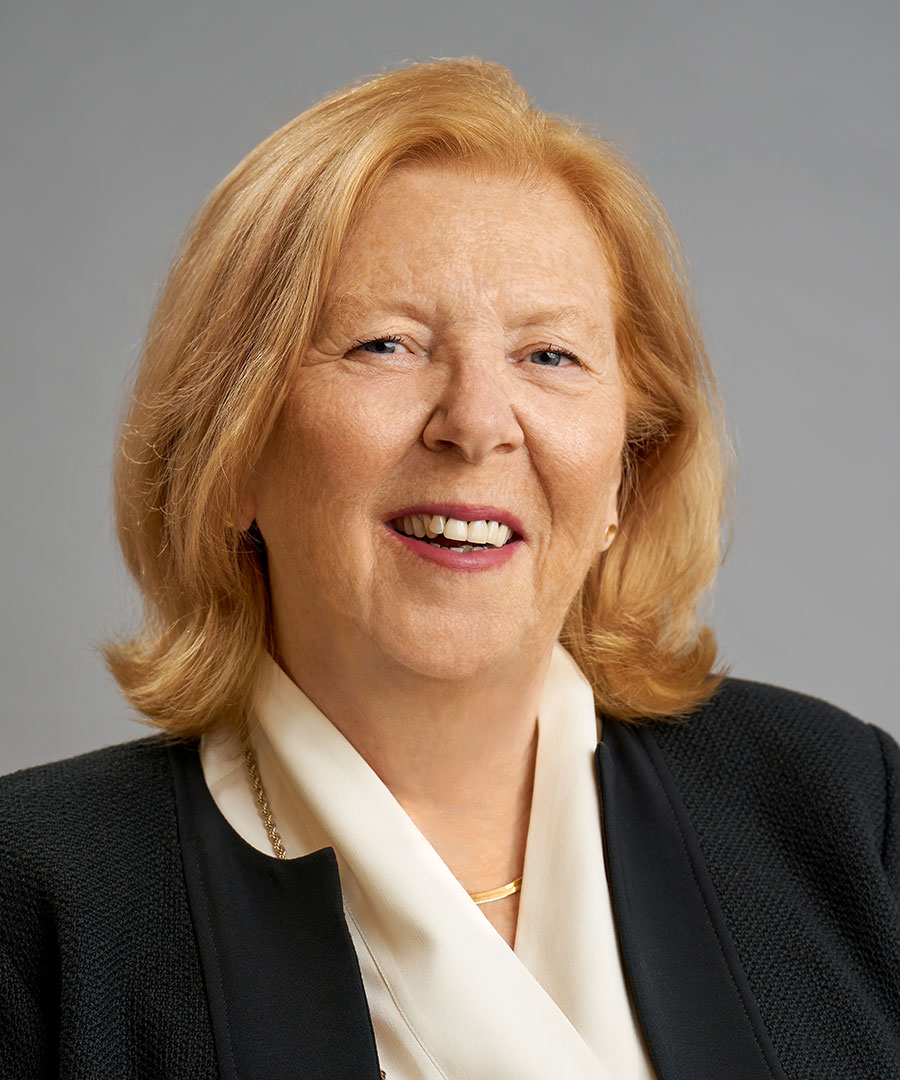 Hon. Rebecca Westerfield (Ret.)
Contact Information
Tracey Rentner
Two Embarcadero Center Suite 1500
San Francisco, CA 94111
T: 415-774-2639
F: 415-982-5287
General Biography
Practice Areas
Accounting/Finance
Banking
Business/Commercial
Civil Rights
Class Action/Mass Tort
Cybersecurity & Privacy
Employment
Entertainment and Sports
Environmental
Estates/Probate/Trusts
Federal Law
Financial Markets
Franchise
Governmental/Public Agency
Health Care
Insurance
International & Cross-Border
Life Sciences
Personal Injury/Torts
Professional Liability
Real Property
Securities
Honors, Memberships, and Professional Activities
Background and Education
Hon. Rebecca Westerfield (Ret.) has settled and arbitrated thousands of domestic cases and cross-border disputes throughout the United States. A full-time JAMS panelist since 1992, Judge Westerfield is widely perceived as a tenacious mediator. She is included regularly on the "National Mediators" List, Chambers USA and she was noted as being at the "cutting edge of the field" by peers. Her extensive experience includes complex, multi-party, multi-issue cases with underlying insurance coverage disputes. She is particularly adept at dealing with matters that involve cross-cultural dynamics and high emotional content, such as business dissolutions, catastrophic personal injury litigation and family estate matters. Parties have included Fortune 500 companies and other publicly owned corporations, Silicon Valley entities and multinational corporations.

In arbitrations, Judge Westerfield is known for managing the process efficiently and fairly. Her managerial arbitration style provides parties with an opportunity to be fully heard while moving the process to conclusion.

She has presented at numerous international programs on mediation in Asia, Europe and Latin America, taught as an adjunct professor at the University of California, Berkeley School of Law, and lectured at Stanford University Law School. She is particularly interested in the use of mediation skills and techniques in the making of public policy and in cross-cultural communication.
ADR Experience and Qualifications
Judge Westerfield's successful ADR practice includes both arbitration and mediation of accounting, financial markets, banking, business/commercial, civil rights, class action/mass tort, employment, entertainment, estates/probate/trusts, franchises, government public agencies, health care, insurance, personal injury, professional liability, real property and securities matters

Continually recognized as an ADR leader in California and beyond by publications such as Chambers USA Leading Lawyers for Business, The Recorder, The Daily Journal and the National Law Journal

Presenter on mediation and ADR-related topics in Europe and Asia as well as serving as an adjunct at the University of California, Berkeley, School of Law

Elected as a Fellow in the College of Commercial Arbitrators

Certified Mediator, International Mediation Institute
Representative Matters
Arbitration

Business cases, including contract and licensing disputes
Disputes relating to valuations in stock purchase agreements and earnout provisions
Real estate matters, including those involving breach of fiduciary duties by boards of directors of homeowners' associations
Professional fees disputes
Professional malpractice disputes involving lawyers, accountants, doctors and psychiatrists, among others
Employment disputes involving wrongful termination, discrimination, harassment and retaliation
Health care disputes involving coverage, and payment and billing disputes among HMOs, insurance companies, physicians and hospital providers, as well as billing disputes between insurers and hospitals/providers
Insurance coverage disputes
Unsuitable investment and fraud claims
Environmental remediation disputes
Disputes between domestic and international companies arising from allegations of breach of contract, partnership, joint venture, shareholder and operations agreements
International arbitrations using JAMS International Arbitration Rules as well as International Centre for Dispute Resolution (ICDR) matters

Business/Commercial

Social media content monitoring dispute
Sole arbitrator of contract dispute relating to license agreement between Golden State Warriors and the Oakland-Alameda County Coliseum Authority. In this dispute between the basketball team and the arena, at issue was whether or not the team was required to continue to pay its bond obligation through 2027 given that they had announced they were moving to another stadium
Variety of contractual and tort claims involving commercial business owners, including trade secrets, libel and slander, including Internet defamation, interference with contractual relations, as well as unfair competition claims under California Business and Professions Code § 17200
Business disputes involving Fortune 500 companies and "family offices"
Complicated software, technology and cloud computing breach of contract disputes including bitcoin transactions
E-commerce contractual disputes involving payment service providers and businesses
Social media network and Internet defamation cases
Complex, multi-party, high-value disputes, including multi-million-dollar disputes arising out of casino developments on tribal lands
Accounting and fraud disputes
Franchise disputes
Facilitated negotiation for sale of a closely held corporate manufacturer
Software licensing agreement disputes
Dissolution of business partnerships, joint ventures and closely held corporations
Insurance coverage and payment disputes
Lending disputes
Trade secret disputes and IP counterfeiting disputes
Unfair competition
Breach of fiduciary duties
Banking disputes regarding unauthorized account activity

Civil Rights

Title IX disputes
Multiple class actions and individual matters involving ADA claims
Cases involving the Brown Act, which guarantees the public's right to attend and participate in meetings of local legislative bodies
Invasion of privacy cases involving mobile devices, cloud storage and retail technology outlets
Housing accessibility case involving a major municipality
Use of excessive force claims

Class Action/Mass Tort

Multi-districts litigation (MDL) special discovery master product liability
Allocation of settlement funds to individual claimants
Wage and hour class actions
Consumer cases involving mobile devices
Consumer complaints against banks
Product liability matters, including pharmaceutical and food-related torts
Shareholder class actions
TCPA and other privacy/data breach disputes
ADA cases
MDL antitrust litigation involving consumers in Illinois Brick non-repealer and repealer states

Employment

Americans with Disabilities Act (ADA) Claims, Including Class Actions


Class actions and individual matters involving ADA claims

Executive Breach of Contract Claims, Including Theft of Trade Secret and Employee Raiding

Contract dispute involving allegations that the respondent company poached claimant's most successful and essential employees
Multiple cases involving alleged breaches of contracts with high-level executives and attendant stock valuation issues
Dissolution of closely held corporations and family businesses, including complex valuation issues

Discrimination Claims, Including Class Actions

Multiple class actions and individual cases involving age, race, disability and gender discrimination claims
Disability discrimination cases involving issues such as failure to provide reasonable accommodations, and the relationship and discrepancies between payments under workers' compensation, long-term disability and Social Security Disability Insurance (SSDI)
Single case with 102 individual claims for race, sex and age discrimination brought after a massive reduction in force by a single defendant entity with multiple funding authorities, including governmental agencies
Cases involving California Fair Employment and Housing Act (FEHA) claims
Cases with claims of discrimination related to pregnancy and the Family and Medical Leave Act (FMLA)

ERISA

Cases involving breach of fiduciary duty in the management of trust fund assets
Cases involving denial of long-term disability benefits

Financial Markets Employment Cases

Executive termination cases involving the valuation of stock options
Wide range of employment matters in the investment banking industry, including hedge funds, banks and private equity and venture capital firms

International Business Employment Claims

Multiple cases with international businesses involved in disputes with their U.S.-based employees, involving complex, cross-cultural issues

Sexual Harassment Claims, Including Class Actions

Multiple sexual harassment and battery cases with issues regarding appropriate investigation, significant psychological injury and insurance coverage
Case involving sexual harassment claims with underlying breach of contract claims and insurance coverage issues
Cases involving sexual harassment claims against an international billionaire, professional athlete and media celebrity

Trade Secret, Noncompete and Nonsolicitation Disputes

Employment disputes involving high-level executives accused of breaching noncompete and nonsolicitation contracts, theft of trade secrets and use of proprietary information

Wage and Hour Claims, Including Class Actions

Multiple class actions and individual cases involving wage and hour claims, including the alleged misclassification of employees as exempt, the failure to provide meal and rest periods, the failure to distribute tips and service charges, travel time and off-the-clock work

Whistleblower Cases

Whistleblower claims in the health care industry
Employment disputes involving Sarbanes–Oxley Act whistleblower claims

Wrongful Termination Claims

Wrongful termination matters where special considerations were made for parties in bankruptcy
Wrongful termination claims relating to accounting malpractice, such as failure to follow GAAP or Sarbanes–Oxley Act claims

Entertainment and Sports

Sole arbitrator of contract dispute relating to license agreement between Golden State Warriors and the Oakland-Alameda County Coliseum Authority. In this dispute between the basketball team and the arena, at issue was whether or not the team was required to continue to pay its bond obligation through 2027 given that they had announced they were moving to another stadium
Real estate contract and licensing agreement dispute involving professional sports team
Accounting issues arising from film distribution agreement
Catastrophic permanent injuries involving amusement parks
Claims of sexual harassment by well-known professional athletes and media celebrities
Copyright claims involved with popular media application
Libel of well-known publisher by financial magazine
Licensing of popular television series
Personal injuries in amateur sports
Dispute over production of multi-million-dollar, high-tech event for a client in the Middle East
Sale of casino under Nevada state law
Stock purchase agreement involving sale of DVD distribution company and earnout provisions
Tribal dispute over casino development

Estates/Probate/Trusts

Contentious dispute between co‑trustees
Disputes between children of the deceased parents and living step-parents over division and handling of the trust and estate
Contentious division of family estate valued in excess of $100 million (complex tax and valuation issues)
Matters involving disputes over value of real estate and stock in the trust, as well as buyouts of ongoing business
Series of sensitive family disputes over a trust involving sexual abuse allegations against the administrator of the estate, as well as a separate dispute involving a Marvin contract
Case involving split of assets when a relationship ended between a couple that owned high-profile and successful business

Health Care

Dispute involving claim where insurer underpaid or failed to pay for services provided by hospital's professional and ancillary providers
Qui tam/False Claims Act case involving relator, government and the business
Employee-raiding dispute involving health care provider and allegations that the respondent company poached claimant's most successful and essential employees
Arbitrated and mediated contract disputes between health care providers and insurers
Arbitrated and mediated cases involving coverage and payment disputes between HMOs
Handled cases involving insurance companies, physicians and providers
Case involving allegations of improper capitation recoupments and underpayments by insurance company for contracted capitated health care services provided to the insurance company members by a health care system; allegations included unfair and unlawful business practices
Contractual disputes between a medical billing service provider and medical provider client
Payor/provider billing disputes
Arbitrated and mediated cases handling health care employment issues, including practice dissolutions and high-level doctor and hospital severance agreements
Arbitrated contract dispute between hospital and not-for-profit health network

Insurance

Attorneys' Fees

Billing disputes involving Cumis counsel fees
Issues as to amount and allocation of defense costs among multiple insurers

Bad Faith

Claims for failure to settle
Doctors groups claiming insurer failed to provide coverage
Numerous claims involving failure to provide indemnity coverage under particular policy language

Coverage

Environmental litigation: application of pollution exclusion and triggers to multiple policies
Served as special master in determining the meaning of "action in controversy"

Indemnity and Contribution

Allocation among multiple insurers, e.g., mold claims, environmental claims, product liability and landlord-tenant
Claims regarding construction defects
Dealing with special statutory issues involving California Insurance Guarantee Association (CIGA)
Disputes regarding application policy periods

Subrogation

Multi-million-dollar claim involving multiple carriers against a third party as a result of fire loss incurred by two condominium associations
Numerous claims arising out of fires, thefts, vandalism and construction defects

International & Cross-Border

Mediations involving international laws in countries including Turkey and Dubai
Cases involving the New York Convention on the Recognition and Enforcement of Foreign Arbitral Awards
Multiple contract disputes with various European and Asian manufacturers and suppliers
Claims over Central American energy sources
Disputes among Asian partnerships
Claim for fire loss/damage to a high-technology product stored in a warehouse in India, involving foreign law and insurance subrogation issues
Arbitration involving business disputes in Eastern Europe

Personal Injury/Torts

Cases involving the deaths of or permanent injury to children
Multiple cases arising from the deaths of elder people during care at nursing facilities
Auto and public transportation fatalities
Multiple wrongful death and permanent personal injury cases arising out of maritime accidents occurring between boats, on ferries and on cruise ships.
Loss of limbs at an amusement park
Injuries resulting from alleged use of excessive force in policing actions
Wrongful death claims involving machine product liability
Cases involving burn injuries and disfigurement
Death due to scalding on construction site
Death due to toxic exposure on the high seas
Fatality due to dog mauling
Industrial machinery product liability claim involving wrongful death
Medical malpractice claims involving wrongful death and permanent injury
Numerous cases involving multiple severely injured parties in a single occurrence and limited insurance coverage
Quadriplegia as a result of a sailing accident

Professional Liability

Accounting Malpractice

Failure to advise properly on the Alternative Minimum Tax effect
Failure to discern fraud upon independent audit
Failure to file proper tax returns for a multi-million-dollar estate
Failure to provide appropriate advice on the exercise of stock options

Legal Malpractice

Underlying cases have involved antitrust matters, probate and estate issues, personal injury claims, contract disputes, business transactions, financial restrictions and closing documents

Medical and Dental Malpractice

Cases involving the elderly with attendant elder abuse statutory claims
Death of a child resulting from extubation
Failure to diagnose
Permanent brain injury to a child during delivery
Surgical procedures resulting in death and permanent injuries
Chiropractic and acupuncture malpractice
Understaffing of elder care facilities

Psychiatric Malpractice

Inappropriate treatment
Sexual assault claims
Violation of boundaries between health care provider and patient

Real Estate

Construction Defects

Claims involving subdivisions and large condominium complexes as well as single-family dwellings

Easement/Boundary Line

Matters involving neighbors, governmental entities and utility companies

Environmental

Failure to disclose existence of a Superfund site next to new subdivision development
$40 million dispute regarding allocation of remedial costs for groundwater contamination

Fire Loss

Residential and commercial fire loss claims; third-party and subrogation claims as a result of fire damage to commercial buildings, condominiums and single-family residences, and attendant complex insurance issues

Landlord-Tenant (Commercial and Residential)

High‑profile landlord-tenant matters involving successful Bay Area entrepreneurs
Disputes involving owner-landlord's condominium conversion in San Francisco; Ellis Act/unlawful detainer and tenant's cross-complaint
Disputes regarding tenant improvements of commercial property
Numerous claims regarding warranty of habitability
Numerous rent control ordinance wrongful evictions per alleged pretextual owner move-in; Ellis Act
Premises liability issues involving death and permanent injuries
Retaliation claims under rent statutes

Mold

Multiple claims involving mold remediation and personal injury and insurance issues

Real Estate Transactions

Claims regarding concealment and nondisclosure of defects, lack of building permits and code compliance, zoning and other land use controls, neighborhood problems and other matters involved in the purchase and sale of residential properties, including claims presented against sellers, brokers, agents and whole house, pest and other inspectors
Multi-million-dollar casino development on tribal lands
Professional malpractice of realtors
Shopping mall commercial lease dispute
Arbitration determining fair market value of minimum rent under commercial lease option to extend

Securities

Backdated stock options disputes
Breach of fiduciary duties
Brokerage firm's failure to supervise
Employment disputes in the securities industry, including discrimination (sex, race and age); sexual harassment; and wrongful termination/breach of contract
Legal malpractice involving under-securitization
Matters involving brokerage firms, hedge funds and financial advisors
Misrepresentation/fraud claims pursuant to SEC Rule10b-5
Suitability of investments
Unauthorized transactions and trading
Fraud
Honors, Memberships, and Professional Activities
Completed Virtual ADR training conducted by the JAMS Institute, the training arm of JAMS.


Select Honors Received
Elected Fellow, College of Commercial Arbitrators
Recognized as a "Best Lawyers, Mediation," Best Lawyers in America, 2023
Distinguished Jurist Award, University of Kentucky J. David Rosenberg College of Law, 2022
Recognized as a "Best Lawyer," Best Lawyers in America, 2022, 2024

Recognized as a "Best Lawyer," Alternative Dispute Resolution Category, Northern California Best Lawyers in America, 2022

Recognized as "Lawyer of the Year" in Mediation, Best Lawyers, 2021
Included on the "National Mediators" List, Chambers USA, 2019-2023
Recognized, Mediation, Who's Who Legal: California, 2019, 2022
Recognized as an "ADR Champion," National Law Journal, 2016, 2018
Certified Mediator, International Mediation Institute, 2017
"Top Master," Daily Journal Top California Neutrals List, 2013
"Top California Neutral," Daily Journal, 2002–2012 (from the inception of the recognition to its conclusion)
Best Lawyer, Alternative Dispute Resolution Category, Best Lawyers in America, 2008–2018, and Northern California Super Lawyer, 2008, 2010–2019
Best Lawyer in the Bay Area, San Francisco Business Times, 2009
One of the Top Three Best Neutrals in the Bay Area, The Recorder, 2007
One of the 500 Leading Judges in America, Lawdragon magazine, 2006
Distinguished Mediator of the Year, San Francisco Trial Lawyers Association, 2003
One of the Top 10 Mediators in the Bay Area, The Recorder, 2002
Select Memberships and Leadership Positions
Member, Board of Directors, Weinstein International Foundation 2019- present
Active Member, State Bar of California
Member, ArbitralWomen, 2019
Advisor; Center for Advanced Mediation Practice; Bangalore, India; 2018
Member, Advisory Council to the ABA International Human Rights Center, 2011–2014
Member, Advisory Board University of California, Berkeley, School of Law, Human Rights Center, 2009–present
Member, National Association of Women Judges, International Association of Women Judges, ABA Women in Dispute Resolution Committee
Member, International Academy of Trial Judges, Northern California International Arbitration Committee
Chair, International Human Rights Committee, The Bar Association of San Francisco, 2009–2011
Member, American Bar Association House of Delegates, 1987–1991, 1996–2008
Board of Directors, The Bar Association of San Francisco, 1994–1997
Chair, American Bar Association Section on Individual Rights and Responsibilities (now Section of Civil Rights and Social Justice), 1994–1995
Select Speaking Engagements and Publications

Presenter, International Stalemates: Dispute Resolution and Diplomacy, Straus Institute, Pepperdine University (in-person) November 2022
Presenter, Polish Judges Conference on ADR (virtual) October 2022
Presenter, International Centre for Alternative Dispute Resolution and Prevention (ICADRP) Conference, September 2022
Presenter, Warsaw Poland Bar Association on ADR (in-person) July 2022
Presenter, ADR in Times of Crisis, Warsaw Bar Association, Poland, July 2022
Presenter, Implicit Bias and Systemic Injustice, Weinstein International Foundation, July 2020
Presenter, Preventing Corporate Meltdowns: Mediating Disputes to Reach Timely Settlements, Epromasters.com, Singapore, August 2020
Presenter, Mediation, University of Southern California Gould School of Law School, 2018
Co-Chair, Global Pound Conference, International Mediation Institute (Northern California), 2016–2017
Presenter; USA/Italy Dialogue on Judicial Reform: Alternative Dispute Resolution; Rome, Italy; 2016
Presenter, USC/JAMS Arbitration Institute Symposium: Advanced Arbitration Academy, Los Angeles, 2016
Presenter; Admont International Summer School on Business Mediation; Admont, Austria; 2006, 2010, 2012, 2014, 2016
Presenter; Bangalore Chamber of Commerce, Conclave on Alternative Dispute Resolution; Bangalore, India; 2016
Presenter; ABA Asia Pacific International Mediation Summit; New Delhi, India; 2015
Presenter; Private Commercial Mediation Conclave; Bangalore, India; 2015
Trainer, ADR for Supreme Court of India (Delhi), High Court of Bangalore, 2013
Participant, International Human Rights Summer School, New College at the University of Oxford, 2004
Co-authored the ADR chapter of CEB's Wrongful Termination Practice 2ed. (1997)
Adjunct Professor, University of California, Berkeley, School of Law
Lecturer, Stanford Law School
"Enduring Optimism," ADR Profile, Daily Journal, June 28, 2013
Background and Education
Appointed Judge; Circuit Court of Jefferson County, Kentucky (court of general jurisdiction); 1987–1992
Admitted to Bar of United States Supreme Court and Sixth and Ninth Circuit Courts of Appeals
M.A., Stanford University, 2008
J.D., University of Kentucky, 1975 (Law Journal, National Moot Court Team)
B.A., University of Kentucky, with distinction, 1972
"I was impressed how you were able to have the parties engaged until a resolution. Your work was a piece of art. I look forward to working with you in the future."

- Bay Area Attorney
"I really enjoyed mediating the case with [Judge Westerfield] , and I was impressed with [her] patience, empathy, clarity, flexibility, and determination. I am strongly recommending [her] to my colleagues, and I look forward to our next mediation."

- Bay Area Attorney
"Judge Westerfield was remarkable, truly remarkable. This has to be one of the toughest mediations she's ever had in terms of the difficult nature of the parties."

- Bay Area Attorney
Home Office
HOME OFFICE
Walnut Creek, California
1255 Treat Blvd., Suite 700, Walnut Creek, CA 94597
View Location Details
Silicon Valley, California
160 W. Santa Clara St., Suite 1600, San Jose, 95113 CA
View Location Details
San Francisco, California
Two Embarcadero Center, Suite 1500, San Francisco, CA 94111
View Location Details
Available to Travel
Disclaimer
This page is for general information purposes. JAMS makes no representations or warranties regarding its accuracy or completeness. Interested persons should conduct their own research regarding information on this website before deciding to use JAMS, including investigation and research of JAMS neutrals. See More
Search our global directory of mediators, arbitrators and ADR professionals.
FIND A NEUTRAL