Bedrooms, Bookcases or Beaches: Choosing and Organizing Your Background with Purpose
Presentation Matters
Today's post continues to explore how best to present yourself in a virtual mediation. Specifically, I address the risks and opportunities of using a virtual or actual background and provide practice tips on how to present yourself as professionally and persuasively as possible.
For a refresher on how I conduct research and present my findings, see last month's post: Polo Shirts, Power Ties and Pant Suits: Strategic Clothing Choices for Virtual Mediations.
In that post, I explain the importance of carefully choosing what you wear to a virtual proceeding, as well as how to glean useful information from how other mediation participants dress. Clothing and jewelry choices provide clues about a person's personality, priorities, self-image and, potentially, negotiating strategy.
Sophisticated mediation participants understand the importance of establishing credibility and persuasiveness, both of which must be built incrementally. Seemingly small choices add up, and what you choose to wear can influence how people perceive you. The same is true for your choice of background, as I will explain in this post.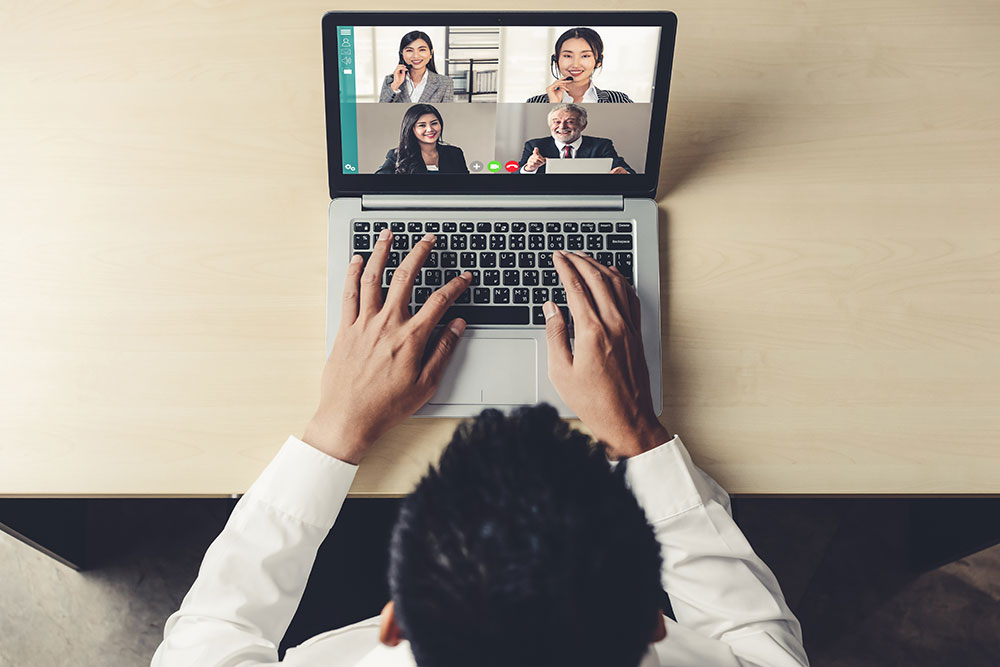 Rethinking Your Current Approach
We've been Zooming for nearly eight months, so most of us have decided whether to use our favorite virtual background—a sunny beach, perhaps?—or a neatly staged corner of our kitchen or bedroom. If your current default choice is a virtual background, you should consider the strategic advantages of using a carefully crafted area of your home or office.
According to the Master Mediators, an emerging consensus from social media and social psychology research, a well-considered natural environment may help you achieve your advocacy goals in any context, including virtual mediations.
I know that change is hard!
That being said, effective mediation advocates continually reassess and recalibrate, switching gears to better advance their interests. So, keep an open mind. What you read below may prompt you to rethink your current approach.
The Master Mediators Weigh In
Do you prefer participants to appear in their natural environment or in front of a virtual background?
SPLIT DECISION
I was totally surprised at the range and intensity of the Master Mediators' viewpoints!
One Master Mediator, known for her diplomatic demeanor, blurted out, "I think most virtual backgrounds are goofy!" Another one said she "loves" virtual backgrounds and finds real ones "distracting and too personal." And a third Master Mediator said, "I don't even notice—to each his own."
Their views ran the gamut, suggesting that you should ask mediators if they have a preference. Speaking from experience, it feels good when clients ask for advice, even on straightforward issues. Besides, why would you do something that a mediator may dislike or find distracting? This is an opportunity for an easy "win."
Despite the diversity of opinions, on balance the Master Mediators clearly prefer non-distracting and well-organized real-life backgrounds. Several pointed to common technological glitches that frequently occur with virtual backgrounds, such as people leaning back so that "their heads, or other parts of their bodies, disappear into the virtual image." These issues can be mitigated if you have a computer with a fast processor, invest in a green screen, vigilantly download and install the latest versions of the videoconferencing software, and ensure reliable fast internet service.
Still, any unintended visual effects can undermine your presentation, distracting the mediator—and the other mediation participants—from focusing on and hearing what you're trying to communicate. In addition, you risk signaling that you're oblivious to—or don't really care about—how you're presenting yourself, making you a bit less likable and eroding your credibility.
Several Master Mediators opined that virtual backgrounds prevent them from seeing people "in their natural environment," denying them access to useful personal information and an opportunity to connect. By design, virtual backgrounds depersonalize the mediation process. In fact, by choosing to hide your natural environment—and keep it a secret—you may even undermine people's perception of your candor and authenticity. What else is he not sharing with me?
One Master Mediator mused, "I really enjoy seeing people in their natural spaces—it provides a sense of human connection and can spark a conversation." Several others explained how they often ask about framed photos or tchotchkes they see in order to build a personal connection or to ease the tension that often characterizes difficult negotiations.
For example, one mediator explained how asking a particularly zealous lawyer about a painting on her kitchen wall created an ideal opportunity to discuss something other than the weaknesses of her client's legal case. Connecting as fellow art lovers, not lawyers, made the process more enjoyable and, importantly, opened up a productive conversation about the case's real settlement value. (Yes, the case settled!)
Taking a Cue From Popular Politicians and Public Figures
Politicians, regardless of party affiliation, want to be listened to, liked and perceived as credible. Dr. Robert Cialdini, a best-selling author and expert on the science of persuasion and influence, writes that we are more likely to comply with people whom we like and people who present with authority. So, when you're choosing the photos, books, plants or art to comprise the overall image you want to present in a mediation, do so with purpose and attention to detail— every detail.
So, what is the best way to organize your background?
I suggest starting with the popular Twitter account Room Rater (@ratemyskyperoom), which grades the livestream backdrops of politicians and pundits on a scale of 1 to 10 based on overall aesthetics and balance, including lighting, depth, camera positioning, and plant, pillow and art arrangements.
What are the criteria for earning a perfect 10?
"We look for several common elements to increase the score," says Claude Taylor, a founder of Room Rater. "We look for the depth of a room—generally a flat background doesn't work as well. We look for color—that can be done with plants [or] artwork. We look for some personality, something that makes it less look less generic. [E]veryone should try to stage it a little bit…but it shouldn't look too staged." Also, be careful not to share too much personal information—some backgrounds can feel overly disclosive and oddly intimate.
Being Seen in the Best Light
Regardless of what type of background you choose, you want to control your environment. A few tips include:
Avoid backlighting so that people can see your face.
Buy a dimmable ring light, which provides even lighting and prevents dark shadows.
Ensure your laptop's camera is level with your eyes—if you're using your laptop, this may mean placing it atop a stack of books. A tilted camera angle, especially one aiming up at you, can distort how you look, often in unflattering ways.
Position yourself prominently in the camera frame to show confidence and presence.
Don't sit too far back from the camera, which literally and figuratively distances you from the mediator and other mediation participants. In other words, don't shrink yourself.
Don't lean into the camera. Think foreground, not forehead.
If you stick with virtual backgrounds because you like them, or economic or other circumstances prevent you from appearing in a natural environment, don't worry. Carefully selected virtual backgrounds can work fine, and many resources offer free images of virtual backgrounds, such as unsplash.com.
To recap, how you look and present yourself matters, so choose your virtual or real-life background with care. If you participate in the mediation from your home or office, pay attention to the details because they matter!
Oh, and pick a comfortable chair.
In my next post, I will explore what I call, "Strategic Etiquette."
David S. Ross, Esq., has been a mediator with JAMS for nearly 30 years. He specializes in complex employment and commercial disputes and has resolved thousands of two-party and multi-party cases, including many class actions. Mr. Ross regularly handles high-profile cases involving celebrities, politicians and CEOs of global corporations.
---
Disclaimer:
This page is for general information purposes. JAMS makes no representations or warranties regarding its accuracy or completeness. Interested persons should conduct their own research regarding information on this website before deciding to use JAMS, including investigation and research of JAMS neutrals. See More